Reverse plated diamond dressing blocks are used to form dress vitrified grinding wheels on surface grinding machines. This is a very fast, accurate method of production form grinding.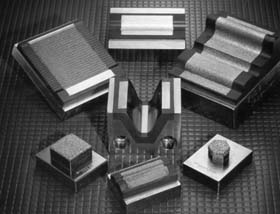 Example of a diamond form dressing block used in a surface grinding application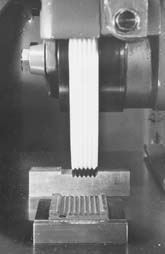 The dressing block can be incorporated within the part fixture, set at the finished part height and included in the table reciprocation stroke. When this is done, on an automatic downfeed surface grinder, the block will consistently control part size because the grinding wheel is dressed only at finished part height. Continued downfeed at this point will only dress the wheel, not grind the part.